Archív značiek:
Football wedding theme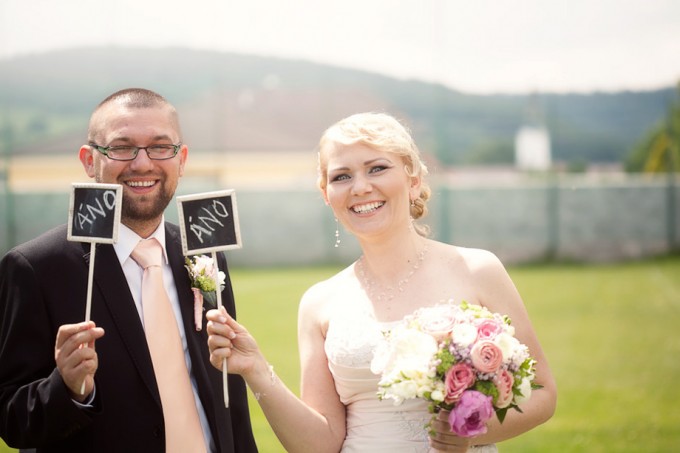 I know Mirka for a long time and our business meetings changed to friendship. When she called me one day, to announce me that she is getting married, and that she wants help with preparation of her wedding and photo shooting of it, she surprised me very nicely.
General preparation for their wedding day, the perfect dress, styling, bouquets, decorations, location shooting I would like to Mirka and Thomas divulge a few things:
Sylvia (WFP): How can you describe your best wedding, and how it should be?
Mirka: Relaxing atmosphere, simple and modern at the same time!
SLB: What is your style and how would you like to include the style to your "D" day?
Mirka: We like light colours. I like pastel colours like pink, beige, white of course, and cyclamen can be as well. My imagination of decorations is something simple and neat. The wedding bouquet should be in my colours. I like peonies and potassium. When it comes to my husband, the best is not to wear a suit and, if he has to do, then free style, according to wedding pictures, the reality was different – from my husband was a sexy man, accessories like bracelets were approved simply his image.
SLB: You create a couple for 6 years. Your destinies have met at work. Which places and things do you like?
Mirka: Our number one subject is football, besides other sports, and music. We live with football the whole year long; my husband plays recreationally, son for younger students and I am just listening.
Theme of our wedding was also adjusted to this. It has started with the wedding announcement and I am very happy that you suggested a football pitch for wedding pictures, where we all had a really nice time. I had one more surprise prepared for Thomas – I have invited a PR manager of FC Spartak Trnava and a player Jan Vlaska to our wedding reception. I think it was gorgeous experience for Thomas.
SLB: Looking back at your wedding, which moment, memory is the strongest one from this day?
Mirka: For me, the whole wedding was the strongest experience, I like surprises and even more I like surprising and my husband is still happy and has a pleasure of his wife.
Wedding team:
Concept, production, styling a decor: SLB agency
Make-up and hair styling: LuciaLus
Photographer: Andrej Balco
Location: Futbalový štadión Limbach
Florist: Kvety Barbora
Thank you!