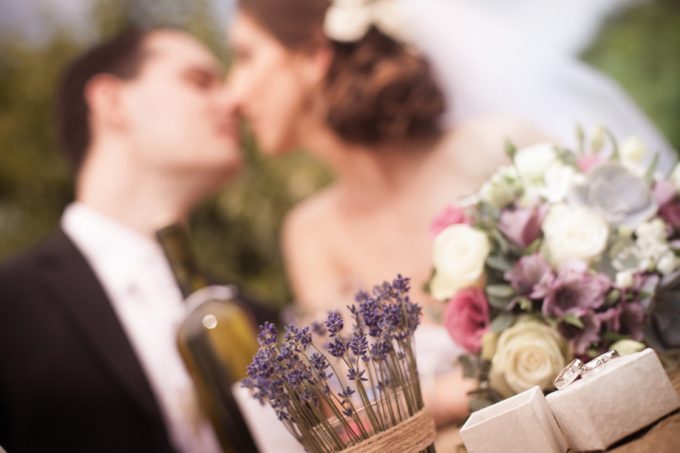 I was really looking forward to shoot Janka and Janko's wedding. Already during our first meeting I felt incredible energy and ease from Janka which she did not lose even during her wedding day. They are an amazing young couple, since 2003 they had been a dance couple of ballroom and latin dancing, and since 2006 also a love couple. When we shot their "first dance" at the wedding party, I admit, I was very impressed and certainly I was not the only one.
Dance, which has converged them, was even our wedding topic we proposed to Janka and Janko. As a suitable area we chose a historic hall in Pezinok castle where we wanted to capture an uniqueness of the moment. I believe we succeeded.
We have combined the wedding dance with a romantic theme of lavender, its aroma and glamour in the most beautiful garden in Pezinok in Staré Hory (Old Mountains), that suit Janka and Janko undoubtedly.
Sylvia (WFP): Throughout the entire shooting we have observed strong bonds not only between two of you but also among your family members. How did you feel?
Janka: For our wedding day we had been preparing for some time. I was wondering myself what feeling I will have when I wake up in the morning. Many things have crossed my mind, however, not at all what it eventually was – it felt like going to a dance competition after a long time, meaning to get up early in the morning, go to do my hair and make up. Luckily, I quickly returned to reality of this unique and up to now the most beautiful day of my life. I am glad to say I really enjoyed every single moment. The greatest reward for me was the satisfied face of my husband and joyful honest smiles of our closest relatives and friends.
Janko: Previous days had been quite hectic, however, since the Saturday's morning all the nervousness and rush disappeared. The whole day passed surprisingly peacefully, comfortably, and also thanks you, very pleasantly and almost carelessly.
Sylvia (WFP): Your wedding was perfectly aligned. For the guests you have prepared even the Wedding chronicle where we could learn a lot about you, your family and friends. There, we read about 10 rules for happy marriage. What makes you happy?
Janka: I have been looking for the answer to your question for a long time… Love and journey makes me happy. When I can make other people happy. When I am with people I love. When they show me they love me.
Janko: Simple but complex question. I am trying to live the life I want to live, with an amazing wife by my side. She is my greatest happiness.
WFP: Thank you for the lovely moments at your wedding and we wish you lots of love!
The Wedding Team:
Photographer: Andrej Balco
Concept, Production and Decor (photo): SLB agency
Location: Lavender garden in Pezinok in Staré Hory (Old Mountains) and historic hall in Pezinok castle
Thank you!
Scroll to top